I'm a semi-stray cat.
Gazing out at a locale from a perspective lower than a traveler's,
I get to know a place through my skin, by walking around.
I stitch every encounter into my body, dyeing its mark into me.
Eventually, myself, my work, the place, and time—all are entwined together.
But I have my "nest" to return to after completing work.
Loosely cutting off a knot, I head on to daily life, to a new place.
And only my footprints and fingerprints remain.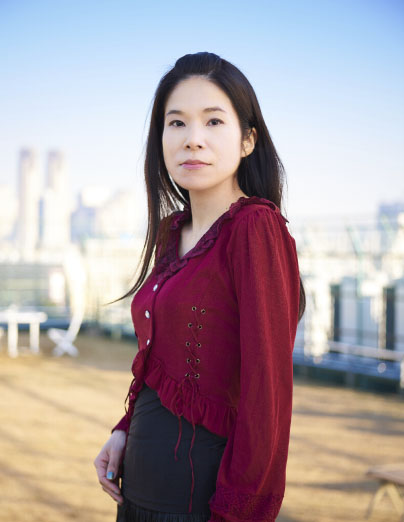 ARTIST
Born in Hyogo, Japan. Lives and works in Kanagawa and Tokyo.
Completed Master Course of Fine Art at Joshibi University of Art and Design.

2000: "Philip Morris Art Award 2000" Awarded the grand prize
2001: Awarded in "Art Scope 2001, Daimler Chrysler Foundation in Japan"
2010: Awarded in "the 21st annual Takashimaya art award"
2015: "NISSAN ART AWARD 2015" elected Seven Finalists
Selected Solo Exhibitions
2001: "DaimlerChrysler Group Art Scope 2001", Pollen,Monflanquin, France;
            Traveling Exhibition: Daikanyama Hillside Terrace, DaimlerChrysler Plaza, Tokyo
2004: "ALUKU -My domestic walking model Barrow-in-Furness and Ulverston",
                          Art Gene Gallery, England
2006: "ALUKU. FOOTPRINTS OF TIME", TAKAHASHI collection, Tokyo
2014: "MOZU-NO-HAYANIE", Joshibi Art Gallery, M-50, Shanghai, China
2015: "MEGURUMEGURU -Around and Around the Neighborhood- Ginza and Shinbashi, 6/25~7/31"
                               Maison Hermes, Tokyo (Window Display)

Selected Group Exhibitions
2000: "Philip Morris Art Award 2000: Final Selection", Yebisu Garden Hall, Tokyo
   "The J-Way", Lydmar Hotel, Stockholm, Sweden
2001: "The Fist Steps", Grey Art Gallery, New York, USA
   "Philip Morris Art Award: Winner's Exhibition", Traveling Exhibition: Fuji Television
                            Gallery, Tokyo; Stella hall, Osaka
2003: "VOCA 2003", The Ueno Royal Museum, Tokyo
   "TRAVERSE", Centre d'Art en l'Ile, Villa Dutoit, Geneva, Switzerland
   "City_Net Asia Project", the Seoul Museum of Art, Seoul, Koria
2004: "ROPPONGI CROSSING", Mori Art Museum, Tokyo
   "Art Scope DaimlerChrysler Japan", DaimlerChrysler Contemporary Gallery, Berlin;
   Traveling Exhibition: DaimlerChrysler Headquarters Stuttgart, Stuttgart, Germany
2005: "Shanghai Youth Biennale 2005, Vision Express: "Vision Express International",
                    Ming Yuan Culture Center, Shanghai, China
2006: "Berlin-Tokyo/Tokyo-Berlin", New National Gallery, Berlin, Germany
   "-ALLLOOKSAME? ArtChinaKoreaJapanArt",
            Fondazione Sandretto Re Rebaudengo, Torino, Italy
2007: "MOT Annual, 2007", Museum of Contemporary Art Tokyo, Tokyo
2008: "Great New Wave: Contemporary Art from Japan", Art Gallery of Hamilton, Canada;
              Traveling Exhibition: The Art Gallery of Greater Victoria, Canada, 2010
   "NEOTENY JAPAN -from Takahashi Collection", Traveling Exhibition: Kirishima Open-air Art
          Museum; Museum of Contemporary Art, Sapporo; The Ueno Royal Museum;     
          The Niigata Prefectural Museum of Modern Art; Akita Museum of Modern Art;
          Yonago City Museum of Art; The Museum of Art, EHIME
   "FORM of TIME", Marugame Genichiro-Inokuma Museum of Contemporary Art, Kagawa
2009: "Stitch by Stitch; Traces I Made with Needle and Thread", Tokyo Metropolitan Teien Art Museum
   "LOVE LOVE SHOW", Towada Art Center, Aomori
2010: "The trip to Niigata", Niigata City Art Museum, Niigata
2011: "CAFE in Mito 2011-Relationships in Color", Contemporary Art Gallery, Art Tower Mito, Ibaraki
2012: "Waiting for the First Train" Tokyo Station Gallery, Tokyo
   "Our 90 Years: 1923-2013", Museum of Contemporary Art Tokyo, Tokyo
2013: "MEMORIES OF A CITY", Yokosuka museum of art, Kanagawa
2014: "Mindfulness! TAKAHASHI COLLECTION 2014", Nagoya City Museum, Nagoya
2015: "NISSAN ART AWARD 2015" BankART Studio NYK, Yokohama, Japan
2016: "Saitama Triennale 2016" the former cafeteria in the Saitama Civic Hall Omiya, Japan
   "Standing on the Earth, Looking up into the Sky" Gunma Museum of Art, Tatebayashi, Japan
2017: " [25th Anniversary Exhibition] MIMOCA's Collection: Artworks of All Kinds! ",
   Marugame Genichiro-Inokuma Museum of Contemporary Art, Kagawa
2018: " [Out of Sinking] Related Proram: Yebisu International Festival for Art & Alternative Visions",
    AL GALLERY, Tokyo

Public Collections
Museum of Contemporary Art Tokyo, Tokyo/ The Ueno Royal Museum, Tokyo/
Kirishima Open-air Art Museum, Kagoshima/ Akita Museum of Modern Art, Akita/
The Niigata Prefectural Museum of Modern Art/ The Museum of Art, EHIME/
Marugame Genichiro-Inokuma Museum of Contemporary Art, Kagawa; donation/
Wacoal Art Center, Tokyo/ Kyoto University of Art and Design, Kyoto/
Joshibi Art Museum, Kanagawa/ Park city Kashiwa-no-ha, Mitsui Fudousan, Chiba/
Takashimaya Credit co; LTD, Tokyo/ DaimlerChrysler Foundation in Japan/
Nissan Motor Corporation, Yokohama/ Fondazione Sandretto Re Rebaudengo, Italy/

Photograph: Hideto NAGATSUKA